Japan is a very blessed country when it comes to natural sights and attractions and these include some of the most amazing lakes in the world. Below are some of the highly recommended lakes to visit the next time you are in Japan:
Lake Kawaguchiko
Lake Kawaguchiko is one of the most famous lakes in Japan. It is located in the Fuji-Hakone-Izu National Park, near Mount Fuji, in the southern part of Yamanashi Prefecture. All year round it sees crowds of both local and foreign tourists. This is due to the beautiful Mount Fuji views and the abundance of outdoor activities it offers. It is especially popular in the Spring and the Autumn seasons due to its viewing spots of the incredible cherry blossoms and autumn leaves.
Access:
There are many highway buses that leave from Shinjuku Station and Tokyo Station several times a day for the Fuji Five Lakes region. The one-way trip takes about two hours and a one-way ticket costs around 2,000 yen.
If you prefer to travel by train, you can take the JR Chuo Line Rapid Service from Tokyo Station to Otsuki Station and then transfer to the Fujikyu Railway Line to Kawaguchiko Station. The trip is about three hours long and costs 2,700 yen.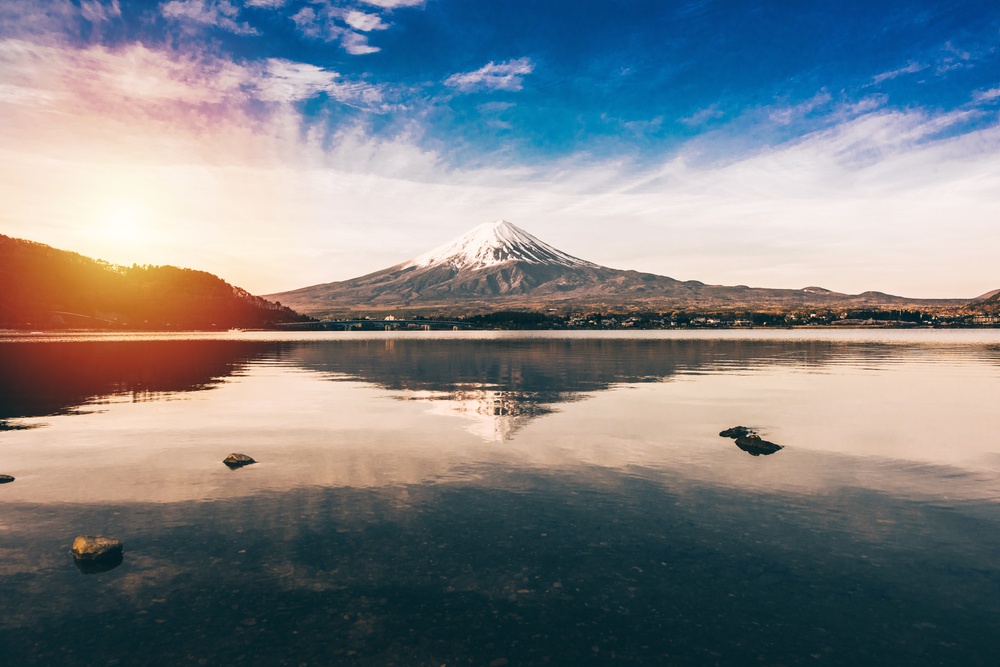 Lake Biwa
Lake Biwa is the largest lake in Japan and is an ancient lake believed to be in existence millions of years ago. It is found in Shiga Prefecture and is surrounded by small towns and cities, such as Hikone and Otsu, where tourists can enjoy not only amazing views of the lake but visits to historical shrines, temples and castles, hiking trails, onsen resorts and local cuisines.
Access:
Kyoto provides easy access to Lake Biwa as they are located right next to each other.
At Kyoto's Sanjokeihan Station, take the Kyoto City Subway Tozai Line/Keihan Keishin Line to Hamaotsu Station. At Hamaotsu Station you can hop on a Michigan showboat for a quick cruise around the lake.
Another option is to take the Eizan Electric Railway Eizan line at Kyoto's Demachiyanagi Station to Yasehieizanguchi Station and then ride the cablecar to Enryakuji Temple which overlooks the lake.
You can also travel from Kyoto to Hikone, a small city on the shores of Lake Biwa. The trip from Kyoto Station to Hikone Station is an hour-long ride on the JR Special Rapid Service Line and costs about 1,200 yen.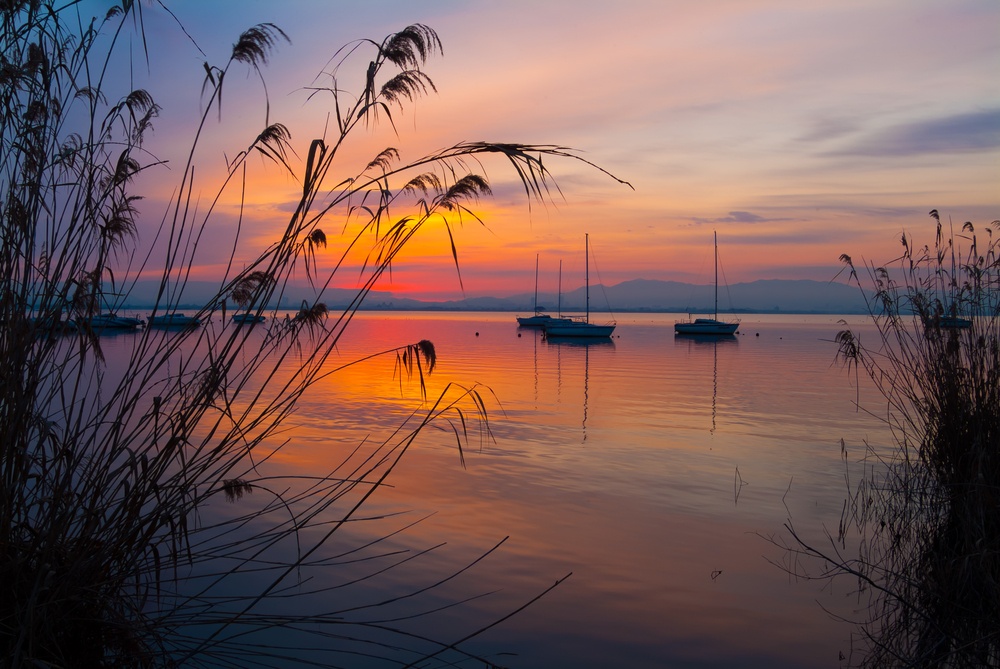 Lake Yamanaka
One of the five lakes that make up the Fuji Five Lakes, Lake Yamanaka is the largest and highest in the group and is known for its various recreational spots for windsurfing, swimming, water-skiing, boating and fishing. In addition, it has public onsen resorts, camping sites, cabins, hotels, and minshuku for guests looking to relax or spend a night or two.
Access:
There are several highway buses that travel from Tokyo Station and Shinjuku Station to Lake Yamanaka. The trip is about two and a half hours long and a ticket costs around 2,100 yen.
If you are in the Kawaguchiko area, there are buses at Kawaguchiko Station that go to Lake Yamanaka. The one-way trip is approximately half an hour long and a ticket costs 630 yen.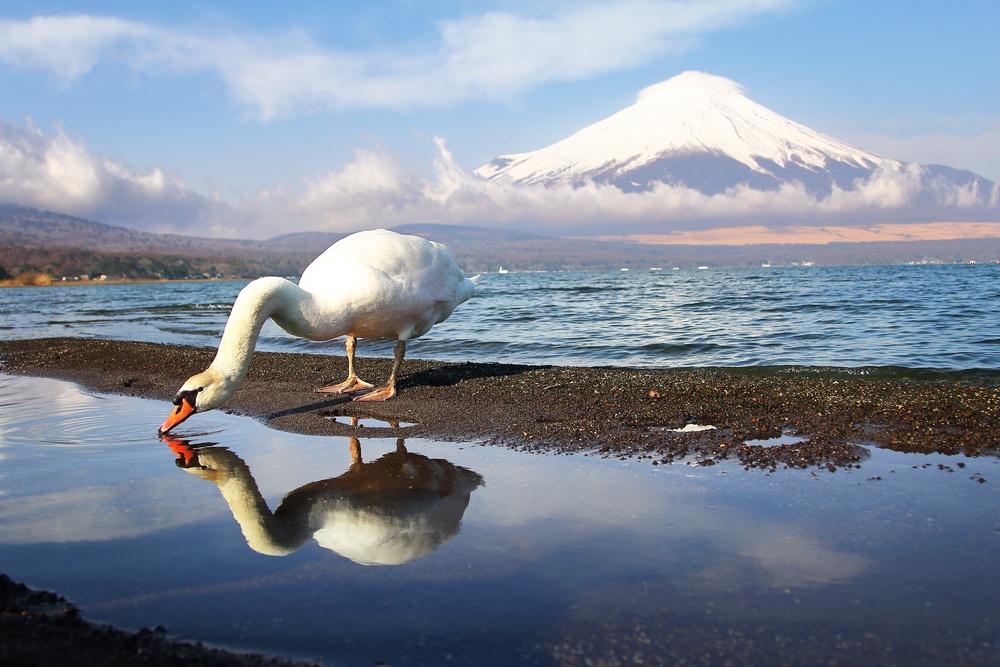 Lake Motosu
The westernmost lake of the Fuji Five Lakes, Lake Motosuko is the deepest among the five and a favorite of those who love to partake in hiking, camping, boating, fishing and other water sports. Compared to the other lakes around Mount Fuji, it is not as easy to access via public transportation as it remains quite undeveloped except for a few camping spots on its shores.
Access:
From Tokyo, you can take the direct highway bus that travels from Shinjuku to Lake Motosuko once a day. The trip is around two and a half hours long and costs 2,200 yen.
From Kawaguchiko Station you can take a 45-minute bus ride to the Motosu-Iriguchi stop and do a five-minute walk to eastern shore of the lake.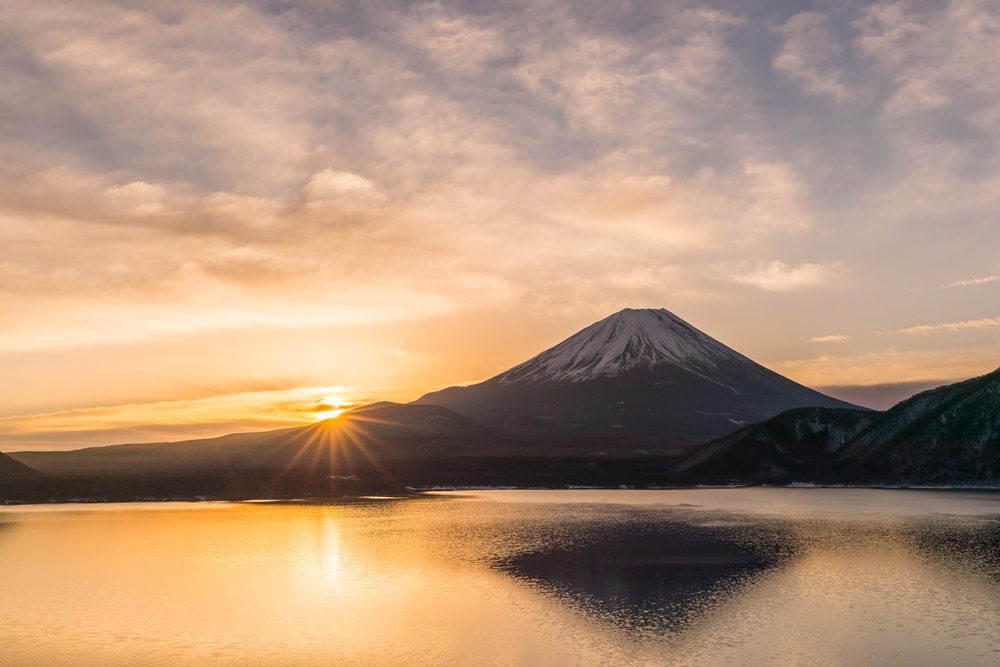 Lake Saiko
Lake Saiko is another of the Fuji Five Lakes and is surrounded by forested mountains and mostly untouched natural sites. It is known for its many hiking trails that pass through the infamous Aokigahara suicide forest, the Wind Cave, the Bat Cave and the Ice Cave.  During the first two weeks of November it becomes crowded as people flock there to get the best seats for Autumn foliage viewing.
Access:
There are retro buses that link Kawaguchiko Station and Lake Saiko and these stop at different points around the lake for easier access to the three caves and other areas nearby.
Lake Shoji
The smallest among the Fuji Five Lakes, Lake Shoji is found between Lake Saiko and Lake Motosuko and offers a variety of recreational facilities that include camping grounds, hotels by the lake, hiking, jet skiing, water skiing, windsurfing, fishing and boat cruises.
Access:
The highway bus that directly connects Shinjuku and Lake Motosuko stops at Lake Shoji. The ride takes about two and a half hours and costs 2,100 yen.
From Kawaguchi Station, you can take the bus headed to Motosuko, Shimobe Onsen, or Shin-Fuji. The one-way ride is about half an hour long and a ticket costs 1,110 yen.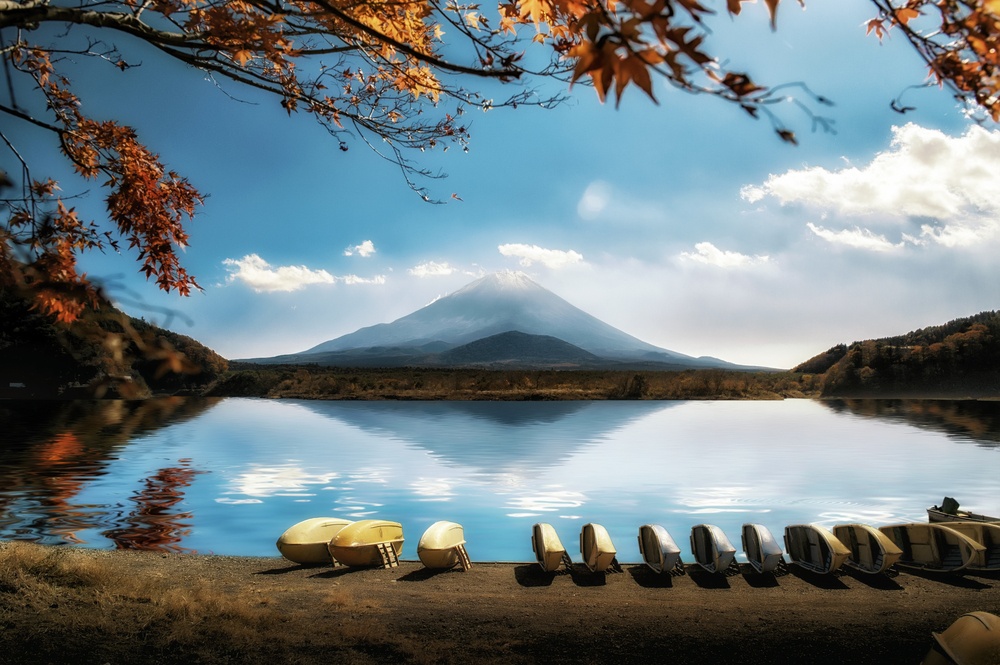 Lake Tazawa
Japan's deepest lake, at 423 meters, Lake Tawaza is a gorgeous caldera lake found in Akita Prefecture in the city of Semboku. It is one of the most popular destinations in the area because of its skiing and onsen resorts. Tourists can hop on a pleasure boat or sightseeing boat to enjoy the natural beauty of the lake and see the iconic Tatsuko Statue up close.
Access:
From Tokyo Station, the JR Akita Shinkansen Line can take you to Tazawako Station in less than three hours for around 16,000 yen.
There are also overnight buses that run from Tokyo's Hamamatsucho Station to Tazawako Station. The one-way trip is about ten and a half hours long and costs 10,000 yen to 16,500 yen.
From Tazawako Station, take a bus to Tazawa-kohan stop which is located on the eastern shore of Lake Tazawa. The 12-minute bus ride costs 360 yen.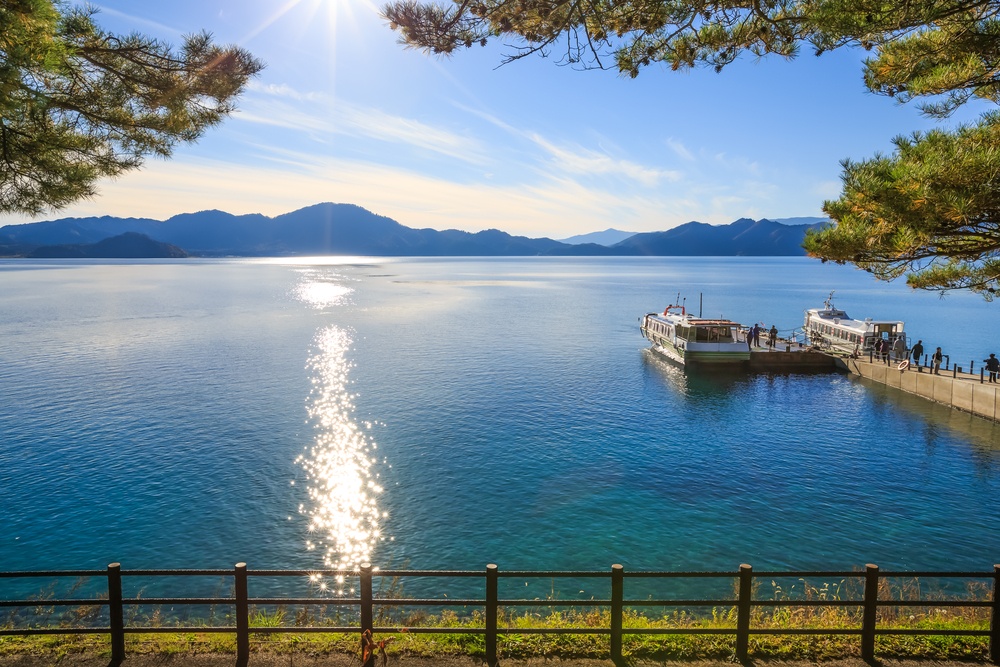 Lake Ashinoko
A caldera formed about 3000 years ago, Lake Ashinoko is a magnificent crater lake found on Mount Hakone's southwest wall in Kanagawa Prefecture. Lots of people flock to this attraction as it offers breathtaking views of the lake and its flora and fauna, with views of the grand Mount Fuji in the distance and opportunities for boat cruises, hiking and more.
Access:
From Tokyo, take a Shinkansen from Tokyo Station to Odawara Station or the Odakyu Line from Shinjuku Station to Odawara Station.
From Odawara Station you can either get on a bus headed to Moto-Hakone or Hakone-machi stops located at the lake's southern part or the Hakone Tozan Railway going to Togendai Station located at the lake's northern end.
Tip:
Look into getting a Hakone Free Pass to take advantage of unlimited use of buses, sightseeing boats, the Hakone Tozan Railway, and the Hakone Ropeway and cablecar in the Hakone area, as well as discounted admission rates to museums and other selected attractions. You can find more information about the Hakone Free Pass here: http://www.odakyu.jp/english/deels/freepass/hakone/.