Walking is one of the best ways to explore the beauty of Japan. The country has an abundance of volcanoes, mountains, hills, valleys, and plains that showcase its stunning natural scenery, and offers a wide array of hiking trails across the country that are suitable for people of all ages and fitness levels.
If you are an inexperienced hiker, or just want some easy trails to conquer for a day trip, below are some good places to enjoy a few hours of sightseeing on foot.
1. Kamakura
Situated in Kanagawa Prefecture, Kamakura is a historic coastal city that is home to many ancient shrines and temples. It is a popular day trip from Tokyo, as it is only less than an hour away by train.
Daibutsu Hiking Course – This trail runs between the western part of Kamakura and Kita-Kamakura, linking the Daibutsu (Great Buddha) and the Jochiji Temple. It is a fairly easy route that takes around an hour to an hour and a half to complete.
Gionyama Hiking Course – This trail provides opportunities to get good views of Kamakura, passing by the Myohonji Temple, the Yagumo Shrine, and the Harakiri Cave. It is perfect for families travelling with young children, as it only takes about half an hour to complete.
Tenen Hiking Course – This trail runs between the eastern part of Kamakura and Kita-Kamakura, linking the Kenchoji Temple and the Zuisenji Temple. It has numerous yagura, or tomb caves, along the way, and requires approximately one hour to one hour and a half to complete.
2. Mount Takao
Mount Takao is another popular day trip destination if staying in Tokyo. It offers about a dozen hiking trails of varying levels of difficulty that allow you to enjoy nature up close. From Tokyo, it takes around an hour by train to get there. Here are some of its trails that are suitable for beginners:
Trail #1 – This is four kilometres long, and passes through the Yakuoin temple grounds to reach Mount Takao's summit. The ascent takes about an hour a half.
Trail #2 – This is a kilometer-long trail that loops around the hillside, through a densely wooded area. It only takes half an hour to complete.
Trail #3 – This is a 2.5-kilometer-long trail that goes through the mountain's evergreen forest. It is mostly flat, and takes about 50 minutes to complete.
Trail #4 – This 1.5-kilometer-long trail passes through a deciduous forest. It includes a suspension bridge that is quite popular among visitors.
Trail #5 – This trail is 0.9 kilometers long, and encircles the summit. It passes through the woods, and takes only half an hour to complete.
Trail #6 – About 3.3. kilometers long, this trail is narrow compared to the others, and offers the chance to see the mountain stream along the way. It takes around an hour and a half to complete.
Inariyama Trail – This trail has a number of observation points along the way. It is 3.1 kilometers long, and takes about one hour and a half to two hours to complete.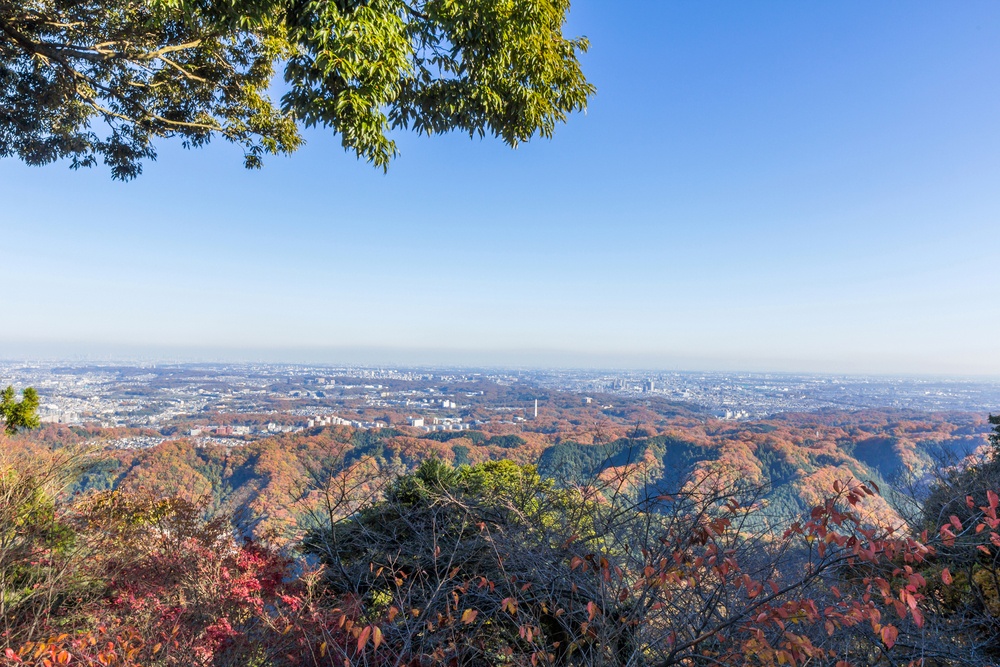 3. Mount Mitake
A part of the Chichibu-Tama-Kai National Park, Mount Mitake is a gorgeous hiking destination that offers untouched forests and incredible landscapes. It is a great day trip option if you are in Tokyo, as it is only less than two hours away by train. And, because it is not as popular as Mount Takao, it is less crowded and offers a more tranquil atmosphere.
The walking trail begins at the Mitake Cablecar's upper station. A half-an-hour walk takes you to the Musashi-Mitake Shrine, which is the mountain's most important religious site for two thousand years now.
From the shrine grounds, the trail branches out to several paths, including one that goes to the Rock Garden, which is a densely wooded area with two waterfalls, a stream, and countless stones covered in moss. The walk from the shrine to the garden takes about an hour.
From the Rock Garden, the summit is about one hour away on foot. The trail includes some steep sections, but nothing very difficult that needs mountaineering equipment or several years of mountaineering experience.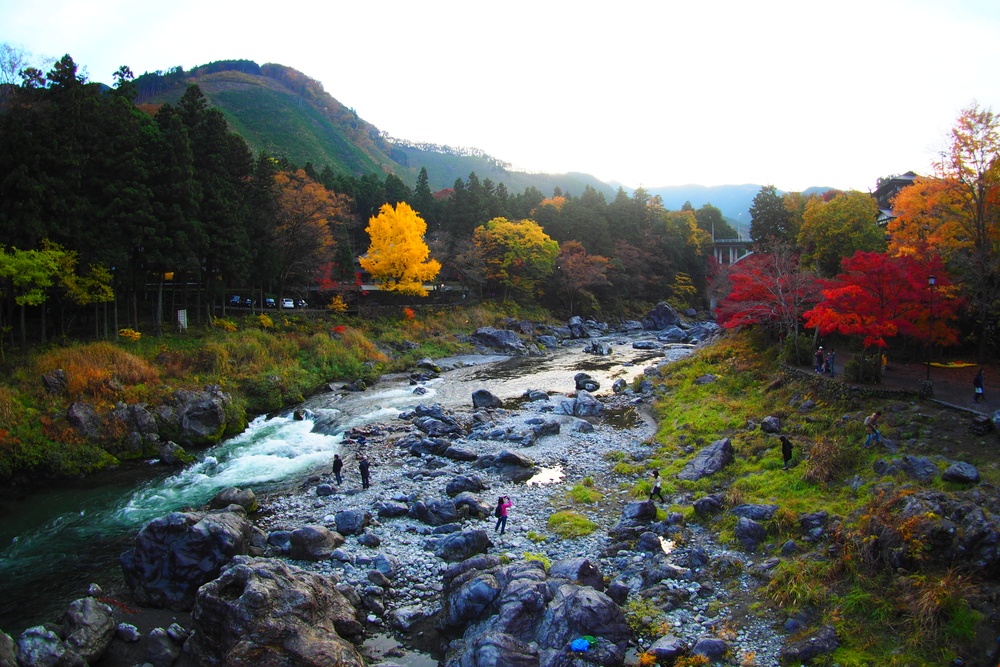 4. Kiso Valley
Tucked in the alps of Nagano Prefecture, Kiso Valley is the location of one of Japan's most important roads in history, the Nakasendo. During the Edo Period, it served as the link between the cities of Edo and Kyoto. Nowadays, sections of the Nakasendo are open to visitors to hike, and offers post towns with ryokan and inns for people to stay for a night or two.
Among all the Nakasendo trail sections, the route between Magome and Tsumago is the most famous. It is an eight-kilometre-long trail that goes through the hills, mountainsides, and forests, and passes by a number of residential areas in the countryside.
For beginners, it is best to start in Magome and end in Tsumago, as going this direction requires less uphill walking.  At a leisurely pace, this trail can be completed in about three hours.
Magome and Tsumago are accessible by bus from either Nakatsugawa Station or Nagiso Station.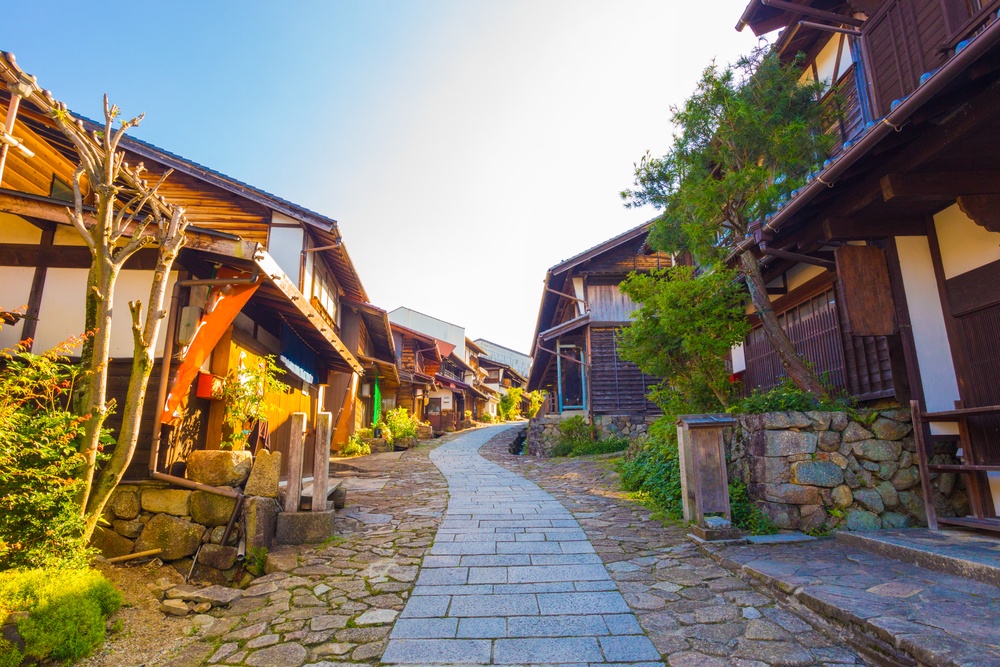 5. Mount Misen
Found on the island of Miyajima, Mount Misen is a 535-meter high mountain that offers mesmerizing views of the island, as well as the Seto Inland Sea and Hiroshima. After exploring Itsukushima Shrine, meeting the deer, and checking out the other attractions around town, visitors usually climb up the mountain to experience more spectacular nature and scenery.
Daishoin Route – Approximately three kilometers long, the Daishoin Route is a paved trail made up of over 2,000 stone steps to the peak. Along the way, you can stop by the Takinomiya Shrine and the Shiraito Fall, and take in the refreshing and quiet atmosphere. To complete the hike up, it takes about an hour and a half to two hours.
Momiji Dani Route – This trail is 2.5 kilometers long. It is most gorgeous during the autumn season, when the many momiji trees that surround the trail change colors. It follows the Momiji River, and is known for several oddly-shaped rocks, most particularly the Screen Rock and the Sakura Rock. It takes about two hours to reach the summit.
Omoto Route – This is a 3.2-kilometer-long trail that begins at Omoto Park, and passes through a large forest that is home to several large, century-old fir trees. Along the way, there is a gigantic rock known as the Fuji Rock, and the site where renowned Japanese poet Kobo Taishi (774 -835) went into seclusion. The climb up to the summit takes between two and three hours.
To get the most out of your walk, invest in good quality footwear. If you are not used to walking for hours, you can get blisters or suffer from serious leg, knee, and foot pains and injuries. To lower the risk for these, it is a must to shop for a pair of hiking shoes that are durable, lightweight, comfortable, and stable, with good support for the ankles and heels, and sufficient room for your toes. Also, do not forget to bring a bottle of water with you to keep you hydrated.