A lot of people think having fun and memorable experiences in Tokyo are not possible if they are travelling on a tight budget. That could not be any further from the truth, as the city offers a long list of cheap or even free things to do and places to visit.
1. Explore public parks, such as Ueno Park and Yoyogi Park.
Located in Tokyo's Ueno district, Ueno Park is a large public park that is home to a diverse collection of flowering plants and about 8,000 trees of different varieties. Every sakura season, people flock to the spacious lawns to have picnics under the beautiful canopies of the cherry trees in full bloom. The same crowds are also common during the autumn season, when the leaves start to change colors. Throughout the year, the park hosts several street performers to provide entertainment to both local and foreign visitors.
From Ueno Station, Ueno Park is only a short walk away.
Meanwhile, Yoyogi Park, which is situated in Shibuya, is another public park with a wide selection of facilities for fitness, relaxation, and sightseeing. It features several ponds, well-manicured lawns, and many kinds of trees that are also a sight to behold during the sakura and autumn seasons. It is a popular site to jog or run, play sports, picnic, and people-watch.
The closest train station to Yoyogi Park is Harajuku Station, which is only five minutes away on foot.
Entry to both parks is free, so you only have to spend money on food and drinks while there.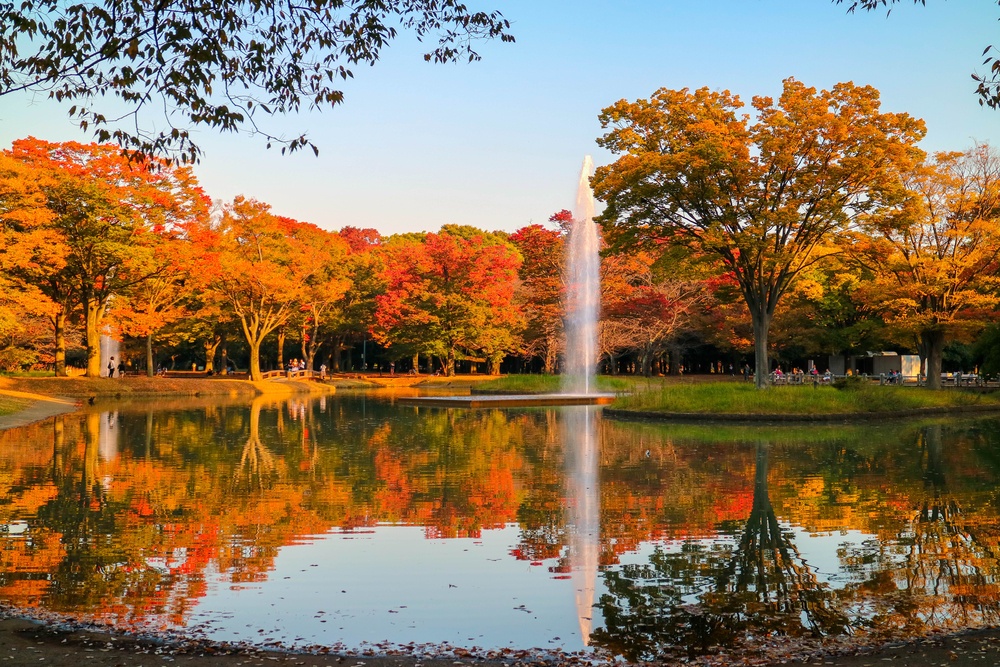 2. Join a free tour of the Suntory brewery.
If you love beer or are just curious about how it is made, the Suntory Musashino Brewery in Fuchu, Tokyo offers free one-hour tours of their factory.
The tour takes you to the different processes involved in beer production, from the brewing stages to the filling and packaging areas. At the end of the excursion, you get to taste some free ice cold Suntory beer and Suntory snacks!
More information is available on the Suntory website.
Bubaigawara Station is the closest train station to the factory. From there, there is a free shuttle bus service that can take you to the brewery.
3. Visit the Meiji Shrine.
Founded in 1920, Meiji Shrine is one of the most popular shrines in Tokyo. It was built to commemorate Emperor Meiji and Empress Shoken, after the emperor died in 1912. It occupies a vast, densely wooded area that sits on 70 hectares of land, and is home to about 120,000 trees, and several buildings. Visitors can check out the entire shrine complex by strolling along its many pleasant hiking trails through the forests. Entry to the shrine's grounds is absolutely free of charge.
From Harajuku Station, Meiji Shrine is only a few minutes' walk away.
4. Window shop in Harajuku.
If interested in the current culture and fashion trends among Japanese youth, make sure to include Harajuku in your itinerary. It is an area adjacent to Meiji Shrine, and is composed of several streets lined with shops, boutiques, cafes, department stores, restaurants, and other entertainment and dining establishments.
5. Enjoy views of Tokyo and Mount Fuji from the Tokyo Metropolitan Government Building observation decks
To get panoramic views of Tokyo, tourists almost always go to Tokyo Skytree or Tokyo Tower, both of which charge entry fees to access their observation decks. Fortunately, for budget travellers, there is the Tokyo Metropolitan Government Building, which is accessible free of charge.
At a height of 243-metres, Tokyo Metropolitan Government Building is among the tallest structures in Japan. It has two towers that each have an observatory about 202 metres high up. On clear days, visitors can see not only the Tokyo metropolis but also the snow-capped Mount Fuji from afar.
To get there, walk about 15 minutes from Shinjuku Station's west exit.
You can find more information on the Tokyo Metropolitan Government Building's official website.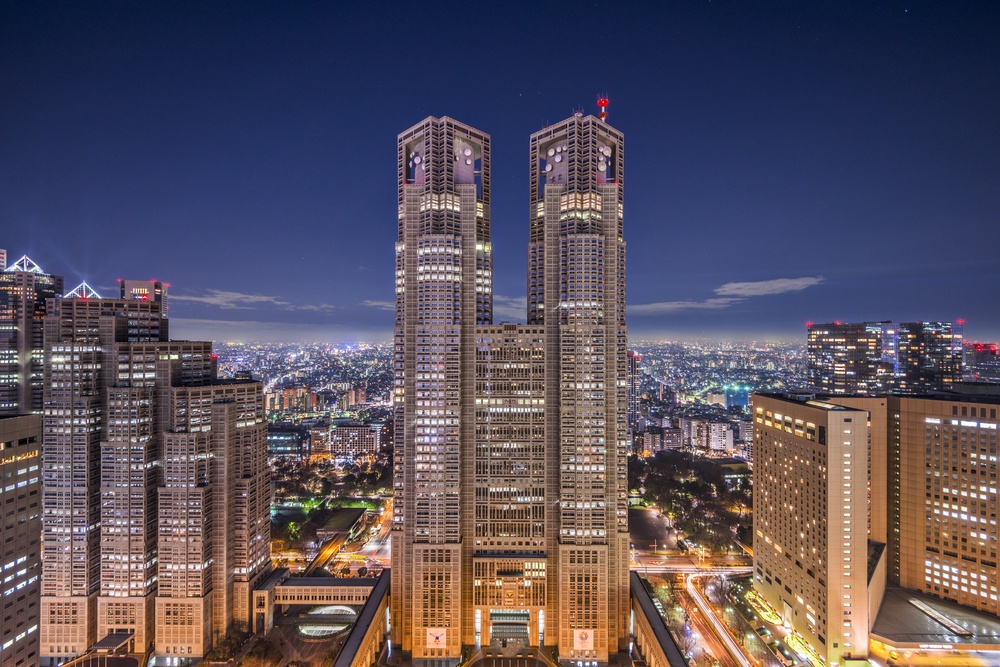 6. Check out Asakusa
Known for its old Edo period atmosphere, Asakusa is a district in Tokyo where you can find several historical and cultural sites, most notably the Senso-ji Temple, a Buddhist temple built in the early 7th century and is the oldest in Tokyo. The street leading to the temple is lined with numerous shops and stalls selling Japanese snacks, souvenirs, and goods.
It also hosts a number of festivals throughout the year, such as the Sanja Matsuri, an important Shinto festival that honours the three men who founded Senso-ji Temple, held for three days every third weekend of May. It features an elaborate parade of three mikoshi (or portable shrines), and traditional dancers and musicians.
Admission to the temple is free of charge.
To get there, take the train to Asakusa Station, which is just a short distance away on foot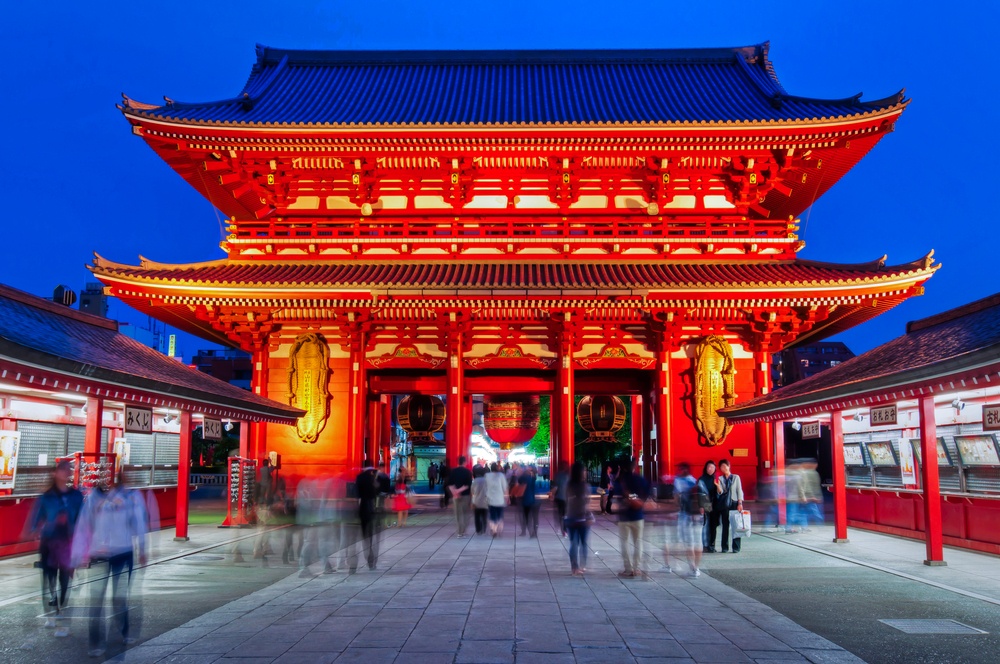 7. Experience a traditional Japanese boat ride in Koto ward.
To help preserve the culture of traditional Japanese wooden boat riding, a group called Wasen Tomo no Kai was formed in Koto ward in Tokyo. They are made up of community volunteers who want to reintroduce this tradition to the younger generations and to share to visitors from around the world. They also want to bring the canals, rivers, and waterways in Tokyo back to life.
The group hosts free boat rides aboard a traditional Japanese wooden boat (or wasen in Japanese) to tourists or anyone who is interested in participating in such a unique experience. A wasen can weigh up to 400 kilos, and can accommodate about seven people.
The tours are conducted from around 10 am to 2 pm about once a week, and typically have staff members join the guests on board. Passengers are required to wear the provided lifejackets before getting on the boat, and are not allowed to stand or get rowdy during the trip. The route traverses the Yokojikkengawa Canal for about 10 minutes, through the quiet neighborhoods of the ward.
In cases of bad weather, tours may be cancelled for precautionary and safety reasons.
To join a boat tour, you must sign up for a slot at the Koto ward office, which is a 15-minute walk away from Tokyo Metro Toyocho Station. Visit Koto's official website to learn more.
8. Learn about animation at the Suginami Animation Museum
The Suginami Animation Museum in Suginami, Tokyo offers a wide selection of exhibits that tell the beginnings and development of animation in Japan. Whether you are an anime fan or not, you will find that its interactive facilities and displays provide lots of information on what it takes to produce quality anime and the challenges animators typically face in the industry.
Moreover, the studio has a library that has a database that contains profiles of anime creators, and a theatre where kids and adults can watch some anime shows.
Completely free of charge, the Suginami Animation Studio a short bus ride away from Ogikubo Station, which is along the JR Chuo Line and the Tokyo Metro Marunouchi Line.
For opening days and hours, and other information, check out Suginami Animation Museum's official website.